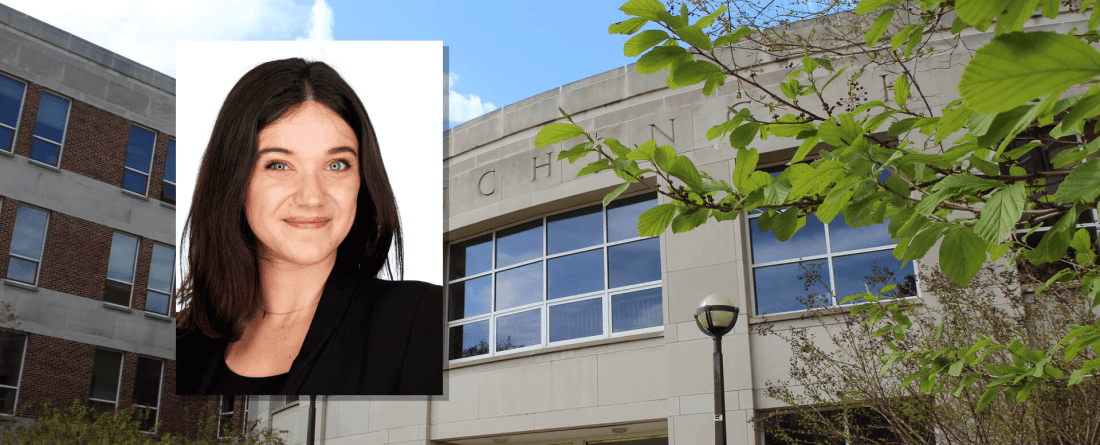 The School of Public Policy has named Alexandra Borgeaud dit Avocat the 2021-2022 recipient of the Kelleher Fellowship for International Security Studies. Borgeaud dit Avocat plans to research arms control and multi-stakeholder governance approaches to managing risks posed by foundational and emerging technologies with military applications.
Borgeaud dit Avocat is the third recipient of the Kelleher Fellowship, which was launched in 2019 to honor founding faculty member of the School of Public Policy and the Center for International and Security Studies at Maryland (CISSM), Catherine M. Kelleher.
"I am delighted that Alexandra has joined our program," said CISSM Director Dr. Nancy Gallagher, who led efforts to found the fellowship. "She brings a European perspective on security policy and connections to numerous research centers like CISSM in Europe, which fits well with Catherine Kelleher's professional focus. She also brings an international law background, which is a welcome addition to the other types of expertise we have among CISSM faculty and students."
Prior to joining the School of Public Policy doctoral program, Borgeaud dit Avocat completed internships at the United Nations in Geneva with the Legal Liaison Office and at the OHCHR Subcommittee on the Prevention of Torture, and at the International Criminal Court's External Relations and Cooperation Unit in the Hague. She also completed a traineeship at the Swiss Federal Department for Foreign Affairs' Women's Rights and Global Gender Issues Unit. She spent a year working for the UN Resident Coordinator Office in Tunisia as a Coordination and Sustaining Peace Associate and was a Young Leader in Foreign and Security Policy Fellow at the Geneva Centre for Security Policy. Borgeaud dit Avocat holds an LL.M. from the Geneva Academy of International Humanitarian Law and Human Rights, an M.Sc. in Global Security from the University of Glasgow, and a B.A. in International Relations from the University of Geneva.
"It is a great honor to be this year's Kelleher Fellow and to have received the opportunity to come to the U.S. to study at SPP, one of the country's leading schools of public policy, especially under the supervision of Dr. Gallagher," said Borgeaud dit Avocat. "I am particularly proud to be a woman in the field of international security and thrilled to be able to contribute to it."
Each year, the Kelleher Fellowship provides full support to one doctoral or master's student at the School of Public Policy in honor of Kelleher's commitment to advancing the careers of women scholars and practitioners in the field of international security. The award is open to students studying international security policy, but special consideration is given to those interested in cooperative approaches to reducing nuclear risks and addressing challenges in U.S.-European relations.