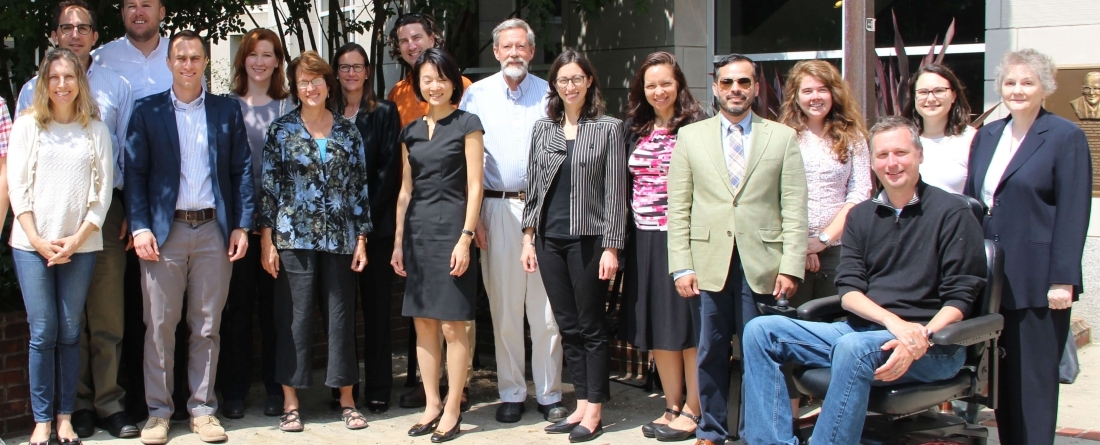 The Center for International and Security Studies at Maryland (CISSM) conducts research, informs policy debates, and helps current and future leaders find creative solutions to complex global challenges. Three cross-cutting themes connect faculty, researchers, and students working on CISSM's research agenda:
Reducing risks from dual-use technologies: A growing list of increasingly powerful technologies are being used by an expanding number of governments, businesses, and civil society members. To facilitate beneficial uses of nuclear, cyber, and space technologies, for instance, while preventing deliberate or inadvertent misuse that could cost millions of lives or billions of dollars, technological advances must be matched by policy innovations. 
Enhancing human security: Far more people are killed by civil violence, terrorism, infectious disease, and natural disasters than by hostile states armed with advanced military technology. Yet policymakers spend far more time and resources preparing to deter or defeat deliberate attack than working proactively to prevent civil violence, mitigate climate change, increase resilience, and rebuild more effectively when disasters cannot be prevented—an imbalance that should be corrected.
Improving multi-stakeholder governance: Few twenty-first century security challenges can be handled effectively by national governments alone. States can no longer fulfill the most basic requirements for sovereignty without finding more effective ways to cooperate with each other and with international organizations, transnational civil society groups, and private industry.
CISSM explores these themes in current research projects. It also explores them in several School of Public Policy courses (PLCY720 International Security Policy; PLCY780 The American Foreign Policy-Making Process; PLCY798M Arms Control and Nonproliferation) and others in the ISEP Specialization. 
CISSM is led by Director Nancy Gallagher. It includes full-time faculty and staff, research associates, post-doctoral fellows, graduate research assistants, and short-term visitors. CISSM is well connected to policy debates and practitioners, and offers its researchers and students opportunities to develop broad perspectives on security, economic, and international development issues. 
Assistant Research Scholar/Professor, Cybersecurity
The University of Maryland, College Park is the state's flagship university and one of the nation's preeminent public research universities. A global leader in research, entrepreneurship and innovation, the university is home to more than 41,000 students, 14,000 faculty and staff, and 250 academic programs. Its faculty includes two Nobel laureates, three Pulitzer Prize winners, 60 members of the national academies and scores of Fulbright scholars.
The Maryland Global Initiative for Cybersecurity (MaGIC) promotes and coordinates efforts across the University of Maryland (UMD) to expand its cyber education, research, and development activities. MaGIC brings together students, faculty, and corporate and government partners to develop and deploy innovative approaches to cybersecurity. It encourages cooperation between academia and the private sector to foster research, enhance educational opportunities, and drive practical applications. MaGIC works with government agencies, both domestic and international, to cultivate research opportunities, funding, and cybersecurity technical capacity across the global community.
The Center for International and Security Studies at Maryland (CISSM) is a multi-disciplinary research, education, and outreach unit based in the School of Public Policy (SPP).  CISSM consistently ranks among the best university-affiliated think tanks in the world, and U.S. News and World Reports ranks the School at having the best security policy graduate program in the Washington, DC region. CISSM's faculty, research associates, and students work together to advance knowledge, inform public debates, and reduce risks that flow from the use of powerful technologies by state and non-state actors around the world. It has developed an innovative framework for assessing cyber risks to help policymakers and organizational leaders set priorities and make strategic decisions.  CISSM invites applications for a faculty position at the Assistant Research Scholar or Professor level to start in fall 2019.
Position Summary
We are seeking an outstanding candidate to join a team of international security experts who are developing and applying the CISSM cyber risk assessment framework to a range of policy challenges. Current projects include intersections between cyber and nuclear risks; applications to transportation, energy, and financial critical infrastructure sectors; and dilemmas related to information-sharing, cyber norms and confidence-building measures, cyber deterrence and "forward defense."  
The ideal candidate will combine substantive expertise in the underlying technology and policy issues. Knowledge of the dynamics and systems underpinning cybersecurity decision making gained through research and/or practical experience is of considerable interest. She or he will excel at analyzing multiple dimensions of complex problems that involve value trade-offs and cultural differences among stakeholder communities and across nations with a mix of common and competing interests. She or he will also have experience completing major independent research projects and communicating research results to academic, practitioner, and policy audiences. The successful candidate should have excellent written and oral communication skills, be highly self-motivated, and work well with others from a variety of professional and national backgrounds.
Depending on the successful candidate's interests and the needs of the School of Public Policy, MaGIC, and other units on campus, there may also be opportunities to teach in the university's undergraduate, graduate, and/or Executive education programs. 
Minimum Qualifications
A Ph.D. in a relevant field. Outstanding candidates with an M.A., M.S., or J.D. and at least three years' of relevant experience could also be considered.
Additional information 
The initial term for this position is one year, renewable by mutual agreement pending availability of funds. Applications should include a personal statement detailing how the applicant's interests, qualifications, and accomplishments could advance CISSM's work on cyber risk assessment and the broader objectives of the Maryland Global Initiative on Cybersecurity. They should also include a Curriculum Vitae, a writing sample, and the names and contact information (including e-mail addresses) for 3-5 references.
For best consideration, applications should be submitted by October 15, 2019 to Jonas Siegel at: jsiegel@umd.edu.  The search will continue until a suitable candidate is appointed. Applications from women and minorities are particularly encouraged. 
Further information about CISSM can be found at: www.cissm.umd.edu. For questions about the position, please contact Dr. Nancy Gallagher, CISSM Director, at ngallag@umd.edu or Dr. Charles Harry, Director of Operations at the Maryland Global Initiative in Cybersecurity and an Associate Research Professor at CISSM, at: charry@umd.edu.
Diversity statement
The University of Maryland, College Park, actively subscribes to a policy of equal employment opportunity, and will not discriminate against any employee or applicant because of race, age, sex, color, sexual orientation, physical or mental disability, religion, ancestry or national origin, marital status, genetic information, or political affiliation. Minorities and women are encouraged to apply 
 
CISSM has limited space to host visiting scholars whose research interests coincide with current projects at the center and who have their own source of financial support. Whenever possible, applications for the coming academic year should be made no later than the end of February. For best consideration, applications for semester-long or summer visits should be made at least four months in advance. When individual circumstances necessitate an earlier decision or a different length of stay, we will respond to the best of our own time and space constraints. Applications should include a letter of inquiry, a research proposal directly related to at least one current CISSM project, and a curriculum vita.
Please send materials to:
CISSM Director Nancy Gallagher
Email: ngallag@umd.edu
For further information contact:
Associate Director Jonas Siegel
Phone: 301-405-4020
Email: jsiegel@umd.edu
Get directions to Van Munching Hall, where CISSM is located.
CISSM offices are located on the fourth floor of Van Munching Hall. Please note that the wing of Van Munching Hall containing the School of Public Policy is not connected to the wing that holds the Smith School of Business above the 2nd floor. In other words, please use the bank of elevators in the School of Public Policy wing of the building to get to CISSM.