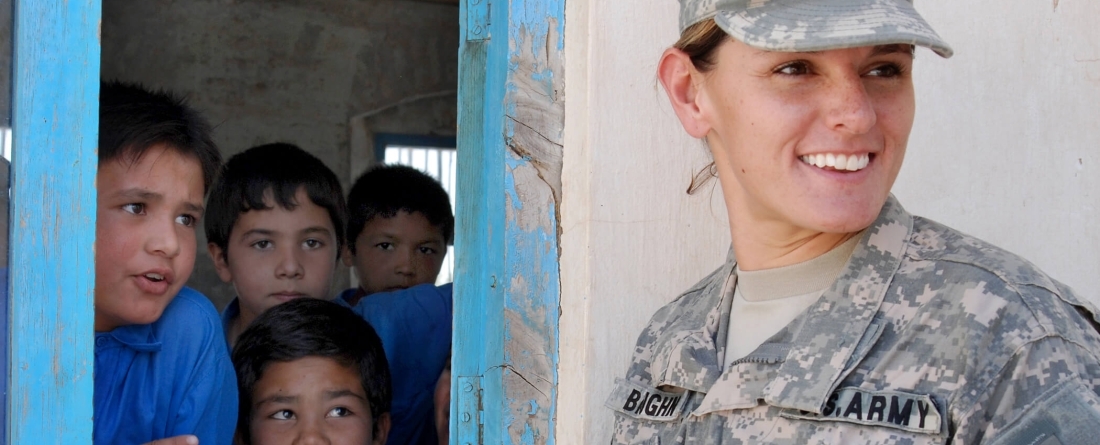 In today's security environment, civil conflicts, mass migration, climate change, epidemics, and other emergent phenomena create multiple, often overlapping, instabilities that threaten peace and security.
Such complex problems exacerbate many forms of human insecurity that are often treated as separate policy issues. They require solutions that cross national borders and involve government, industry, academia, civil society, and the larger public. 
UN resolution 66/290 urges all these groups to develop "people-centred, comprehensive, context-specific and prevention-oriented responses [to human security challenges] that strengthen the protection and empowerment of all people." Current CISSM research projects seek to do so by analyzing the multi-dimensional causes and consequences of four inter-related human security challenges: food insecurity, global infectious disease outbreaks, human trafficking, and social instability exacerbated by climate change. 
Areas of Research
As of 2020, over 45 million children under 5 years of age were affected worldwide by acute malnutrition – the most life-threatening form of undernutrition in early childhood. This urgent problem is exacerbated by a rising number and complexity of humanitarian emergencies. Extraordinary public health, climate change, political instability, and supply chain issues have intersected to undermine food security broadly and cause unprecedented simultaneous famine- like conditions in several countries. Existing analysis of acute malnutrition risks is inadequate for stakeholders to anticipate situations of concern, take action, and implement measures before the onset of food and nutrition crises.
Learn more about CISSM Research Director David Backer's project "Forecasting Acute Malnutrition for Anticipatory Action"
The World Health Organization (WHO) has verified close to 500 infectious disease outbreaks in the past 20 years. Social, political, economic, biological, and environmental factors are increasing the emergence and reemergence of infectious diseases faster than domestic and global capacity to prevent, detect, and respond to outbreaks is improving. One reason why prevention and response efforts often fail or fall short is the multiplicity of actors involved, which ranges from states and international organizations to NGOs and corporations. Another is the limited understanding of the motivations driving these different actors. Outbreak response is often thought of in technical or medical terms, but political incentives are central.
CISSM research seeks to increase understanding of the complexity of these events and to offer concrete policy recommendations for improving outbreak preparedness and response. 
It highlights the political dimensions of global cooperation in this area. It also emphasizes the need for strategies that reach across sectors. This includes governments, international organizations, academic institutions, NGOs, and industry. For example, some of Catherine Worsnop's research examines slow outbreak reporting. While current policy focuses on improving domestic outbreak surveillance capacity globally, this research provides evidence that reporting lags may also be the result of anticipated political and economic costs once an outbreak is made public. Building surveillance and other technical capacities is important. But, it is also critical that country-level and global policy aimed at encouraging rapid reporting of cases and outbreaks also mitigate the associated economic and political costs suffered by national governments, local governments, and individuals.
CISSM researchers are analyzing patterns of human trafficking in the United States and around the world to understand how the increased prevalence of human trafficking at particular hotspots can be explained by some combination of stable structural factors, predictable trends, and sudden shocks to the system. Catherine Worsnop and Kathleen Vogel are investigating the link between natural disasters (e.g., hurricanes, earthquakes, disease outbreaks) and increased vulnerability to human trafficking.  Vogel is also looking at patterns and trends in human trafficking in the Western Hemisphere region to understand what are unique and common issues facing countries in the Caribbean, Andean Republics, Brazil and Southern Cone, United States, Mexico, and Canada, and how these trends have changed over time.  She is also exploring use of new big data/AI tools to collect and analyze more structured and unstructured data to understand traffickers and their patterns of activity.  For example, linking datasets about demographics and population flows, and other datasets on human trafficking, can increase understanding of how migrants in Europe, North Africa/Middle East, and from Venezuela/Northern Triangle encounter unique vulnerabilities to human trafficking in particular country/regional contexts.   
2020 will mark the 20th anniversary of the adoption of the U.N. Protocol to Prevent, Suppress, and Punish Trafficking in Persons, Especially Women and Children (otherwise known as the Palermo Protocol) and the U.S. Trafficking Victims Protection Act (TVPA). Vogel is co-editing a special issue of the Journal of Human Trafficking that will assess the 20 years since the adoption of Palermo. The special issue will publish a collection of 15 papers from human trafficking scholars around the world, and examine how various governments are working to implement anti-trafficking measures in the area of prosecution, protection, and prevention.  
CISSM is also focused on the way in which large-scale processes such as climate change influence social stability. It is likely that scarcity introduced by climatic patterns—in combination with poorly managed state responses—will result in unforeseen externalities and open up new avenues for instability and adaptation. Changes in food production, access to markets, and access to communal resources are likely sources of unrest and could provide non-state actors with opportunities to translate grievances into violent movements. CISSM research seeks to understand the organizational structure and preferences of a range of actors—both violent and non-violent—to help craft policy responses to anticipate and de-escalate the consequences of changing climate and social conditions. 
 
CISSM Experts on Human Security