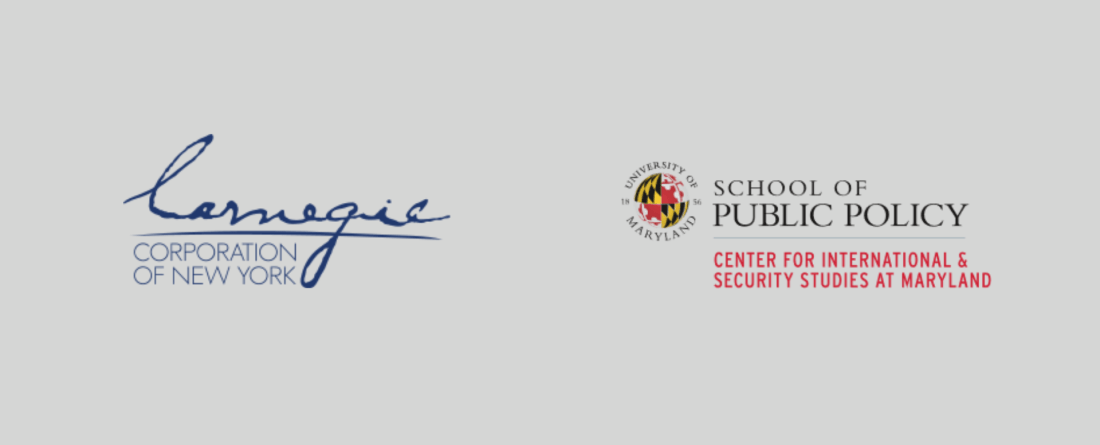 The Carnegie Corporation of New York, America's oldest grantmaking foundation, renewed its support for the Center for International and Security Studies at Maryland (CISSM) project with the Russian Academy of Science's Institute for U.S.-Canadian Studies (ISKRAN) for an additional two years. The grant funds research, education, and outreach on international security challenges that require U.S.-Russian cooperation to reduce shared security risks, particularly in the nuclear, cybersecurity, and space realms.
The grant will also support the continued student and faculty exchanges that CISSM has conducted with ISKRAN, which have been ongoing for two decades. In one exchange. visiting ISKRAN faculty member, Dr. Pavel Sharikov, spent AY 2019-20 at CISSM researching how alternative approaches to information age dilemmas drive U.S. and Russian disagreements over election interference.
"CISSM has built a unique relationship with ISKRAN faculty and students over nearly two decades," said CISSM Director Nancy Gallagher, "which makes it possible for us to continue having thoughtful, insightful conversations about difficult topics even when U.S-Russian relations are at a low point. Continuing to exchange views is essential to getting the world's two largest nuclear armed countries to cooperate despite their differences again."
During the pandemic, CISSM-ISKRAN activities have been adapted to a virtual setting to allow continued interactions on topics of mutual concern. The group held a virtual workshop this fall with students of Dr. Ariel Petrovics' International Security Policy course to discuss current policy problems in nuclear security, drawing on recent scholarship and current events to offer potential next steps for collaborative solutions.
"Some of the best learning opportunities for future policy leaders often come outside the classroom when the theory is put into practice in real negotiations," said Petrovics. "This type of collaborative workshop offers both a valuable learning experience for graduate students and an injection of fresh insights on all sides. Discussions with other departments, outside experts, and new colleagues helps us all question old assumptions and articulate solutions. Many of the students found the interaction so uniquely informative that they have decided to join the group as more permanent members."
Petrovics and Gallagher have also been running a monthly virtual seminar series for young Russian, American, and European scholars, including several ISKRAN junior faculty members. One seminar run by Dr. Arvid Bell, head of Harvard's Negotiation Task Force, involved an interactive session on using simulations to increase student engagement in security policy courses. Bell also arranged for ISKRAN junior faculty member, Alexey Stepanov, to participate in Red Horizon, a three-day immersive negotiation and diplomacy training program.
With Red Horizon, participants gain perspective on opportunities and constraints facing policy officials during negotiations, which provides insights into the structural dynamics of crises. As a member of the "Russian" team in Red Horizon Stepanov "learned how a government with a strict centralized rule and limited leverage options can succeed and where it is prone to failure in its attempts to stand up to the international challenges it faces." He also gained a deeper understanding of structural dynamics that shape US-Chinese relations – his area of specialization at ISKRAN.
The grant extension allows these scholars to use virtual seminars in the first year to develop and refine research projects that will be presented at in-person workshops at both UMD and Harvard during the second year of the Carnegie grant.
Learn more about CISSM's research on U.S.-Russia Security Relations and the Nuclear Past, Present, Future.