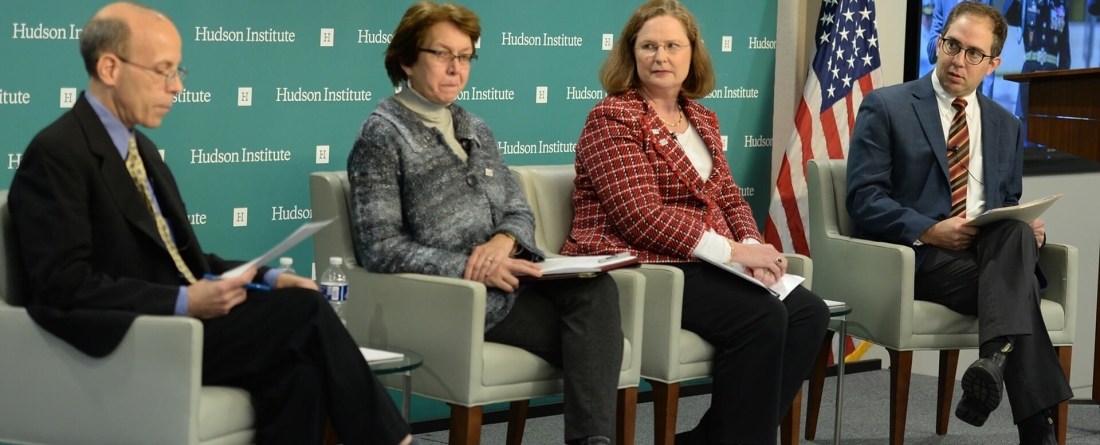 The importance of U.S.-Chinese cooperation on nuclear policy—nuclear nonproliferation, security, energy, and arms control policy—for regional and global security continues to grow. Yet, the intensity and scope of nuclear cooperation between the two is uncertain. CISSM Director Nancy Gallagher and CISSM Associate Director Jonas Siegel addressed the state of U.S.-Chinese nuclear cooperation at a Hudson Institute event on December 2, 2019.
In her remarks, Gallagher addressed the common assertion that China is not interested in working with the United States to reduce the risk of nuclear weapons use. "It is not true that China isn't interested in arms control broadly defined," she said. "China is interested in arms control, but they just think about it differently than the United States has traditionally done."  
In his remarks, Siegel described the relatively rapid decline in U.S.-Chinese nuclear energy cooperation. The Trump Administration's "narrow, blunt-force approach" to nuclear energy cooperation is likely to have "unintended [nonproliferation] consequences," said Siegel.
The event also included a presentation from Amb. (ret.) Laura Holgate, a Vice President at the Nuclear Threat Initiative, who addressed U.S.-Chinese cooperation on nuclear material security, and was moderated by Richard Weitz, the director of Hudson's Center for Political-Military Analysis.
View a video recording of the full event.