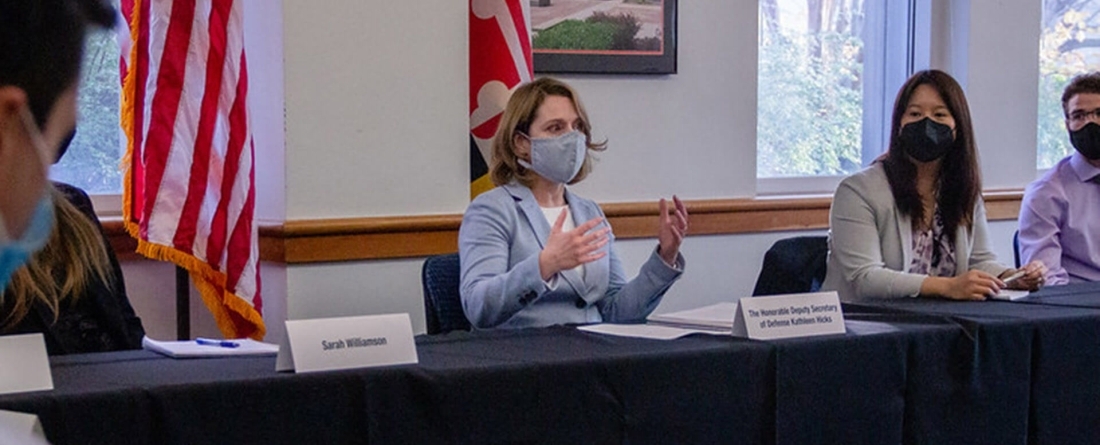 Deputy Secretary of Defense Kathleen Hicks MPM '93 is no stranger to 1107 Van Munching Hall. She had class there when she was a student, studying international security. She defended her master's thesis in the classroom, before starting her career as a civil servant in the Office of the Secretary of Defense.
Hicks was sworn into her role as Deputy Secretary of Defense in Feb, 2021, becoming the first Senate-confirmed female to hold the position and putting her among the ranks of SPP's impressive roster of alumnae in groundbreaking security roles. On Dec. 2, Hicks made her return to 1107VMH, this time to host a group of students for a discussion about her career and the international security field. 
"Secretary Hicks is the quintessential embodiment of what we are proud to produce at this School," said Robert C. Orr, dean of the School of Public Policy. 
Orr introduced Hicks before opening the floor for questions. The policy students posed a range of questions regarding Hick's career, breaking into a career as a civil servant, navigating being a woman in a male-dominated field, and working as a civilian at the Pentagon.
Julia Reicin MPP '22 asked for Hicks's guidance on starting a career in international security.
Publications Carousel
Cadet Joshua Winston asks Deputy Secretary Hicks what it's like working with members of the military as a civilian.
"There are many, many pathways," Hicks said. "There is no one job or one single point that defines your career--it's really a body of work. Be passionate about what you do and you'll be fine."
Hick's own career took her out of public service from 2006 to 2009, during which time she served as a senior fellow at the Center for Strategic and International Studies, before returning to the Department of Defense.
Hicks also shared her expertise on substantive issues, commenting on China's economic expansion, the security challenges of emerging technologies and the importance of quantum research and the life sciences.
All of these areas tap into Hicks's own interest in the various intersectionalities of security policy, such as how the field interacts with food and health insecurity, and more. She stressed that while subject matter specialists are always needed at the Department of Defense, it's important to spend your career being humble about what you don't know--and always growing your knowledge.
"Your willingness to be open makes all the difference in climbing that system quickly," she said.
MPP Student Phoebe Devos-Cole, a soon-to-be Navy pilot, asked Hicks about what it was like advancing in the field as a woman. Hicks said that while she faced challenges, she was lucky. There is still work to be done, especially in increasing uniformed female leadership. 
"I have a responsibility to model what that looks like on the civilian side," Hicks said.
Speaking more broadly about diversity, equity and inclusion issues in the DoD, Hicks described the organization's efforts to collect data, see where challenges lie, share that information with leadership and then implement changes at the policy level.
"Bring your diversity to the table," Hicks said. "You can make it better. It's about heling your fellow citizens."
At the end of the event, Dean Orr asked students to raise their hand if they were interested in a career in the Federal government. Every hand rose.
"We rely on places like [UMD] to attract the best and brightest that this country has to offer," said Hicks.