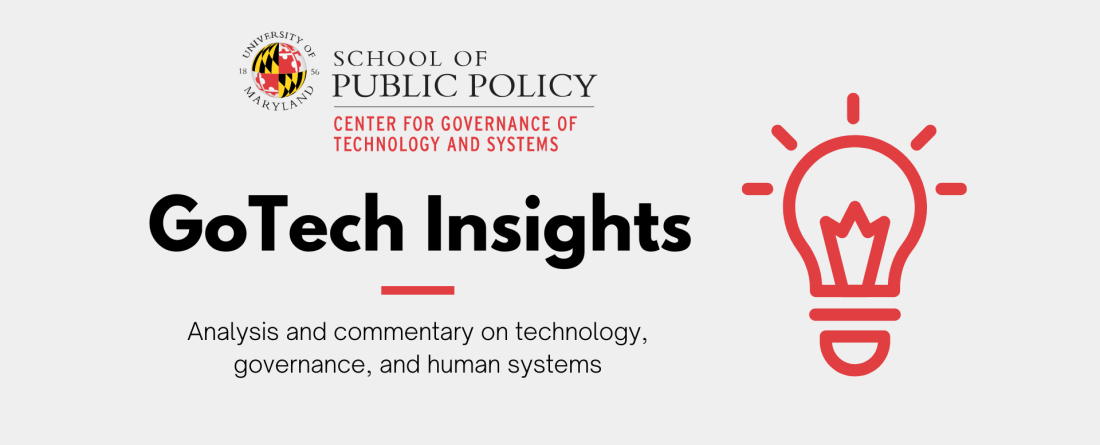 How do types of cyber attacks differ by industry sector or geography? What are the practical realities of maintaining sophisticated weapon systems at the front lines in Ukraine? Which technology breakthroughs underpin advances in artificial intelligence? 
There's no shortage of questions and speculation on how technology might shape human systems in the coming decades. However, the ways these technologies work (and interact with human beings) remain poorly understood outside expert communities.
The GoTech Insights blog, a new resource from the Center for Governance of Technology and Systems (GoTech) at the University of Maryland School of Public Policy, will explore and demystify the intersection of technology, governance, and human systems. GoTech Insights will feature commentary and analysis from a range of experts in strategic cybersecurity, supply chain and sustainment, emerging technology, and technology governance and ethics.
To this end, GoTech Insights has four key objectives:
Expose the audience to new concepts;
Provide context on technologies and events and their policy or normative implications in a structured manner;
Inform the audience on new policy initiatives and provide expert commentary;
Propose new policy approaches to hard governance challenges
GoTech's first blog posts feature center analysis using data from the CISSM/GoTech Cyber Events Database. GoTech Research Associate, Dimitri Nilov, unpacks key global trends by sector, event type, actor type, motive, and geography. While better cyber incident reporting is necessary to fill existing data gaps, the Cyber Events Database provides the most extensive open source data to date to assist public and private sector decision-makers make difficult choices about where to focus scarce resources.
Upcoming posts will feature analysis from GoTech Research Director, William Lucyshyn,  and GoTech Research Scholar, Skanda Vivek. Lucyshyn examines how the United States and NATO allies use innovative approaches to help Ukrainian Armed Forces maintain some of the more sophisticated and impactful weapons including the National Advanced Surface-to-Air Missile Systems (NASAMS), M777 155mm Howitzers, and High Mobility Artillery Rocket Systems (HIMARS) at the field-level.  Vivek's post will provide a 30,000 foot view of key breakthroughs in natural language processing and its impact on advances in AI such as ChatGPT.
Bookmark this page for commentary and analysis by leading academics, researchers, policy practitioners as well as students at the University of Maryland on the hard policy challenges inherent to our increasingly networked world.
Check Out the GoTech Insights Blog