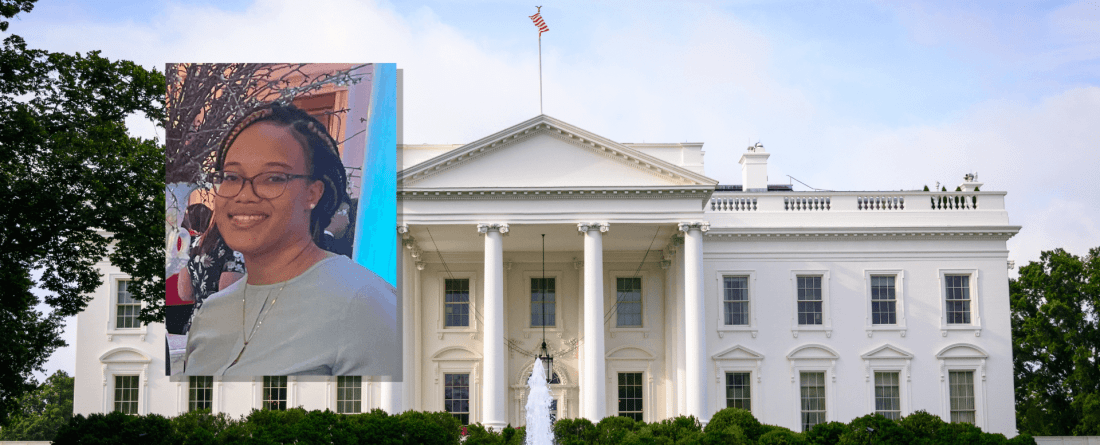 In the lead up to graduation, Master of Public Policy student Njeri Jenkins was presented with an opportunity of a lifetime. Through her work with Girls For Girls (G4G), a nonprofit that works to empower young women around the world to become leaders in various sectors, Jenkins was invited to attend a White House event for Women's History Month as a G4G representative.
But what Jenkins did not know ahead of the event was that she would be an active participant in the ceremony. With only a few minutes' notice (and a mildly intimidating explanation of the rules by the Secret Service), Jenkins found herself face to face with President Joe Biden and Vice President Kamala Harris in the East Room of the White House.
"It was very surreal talking to President Biden and Vice President Harris about Hampton University and SPP even if it was only for one minute," exclaimed Jenkins. "The experience was amazing." 
Over the course of the event, Jenkins had the opportunity to also meet First Lady Jill Biden, Second Gentleman Douglas Emhoff, and Representative Maxine Waters (D-CA 43rd District) as well as make an appearance in a Biden campaign video. 
This unique experience all came about because of Jenkin's MPP capstone project, a year-long effort that gives students the opportunity to work with real-world clients and apply the skills and knowledge they have gained throughout their coursework at SPP to address a policy or management challenge. Jenkins teamed up with G4G to assess its impact on the presence of female leadership in Pakistan, Portugal, and Uganda. 
To produce the impact report, Jenkins analyzed whether the nonprofit's approach of instilling courage, vision, and leadership to build networks, and develop mentorship skills effectively helped to close the gap between gender and leadership in her assigned countries. She conducted several rounds of interviews with organization alumni, mentors, mentees, country teams, and country leads. What she found was promising for future young female leaders. 
"The results of my research indicate G4G not only is an effective and efficient tool for closing the leadership gap, but they are closing the gap at all levels of leadership in various industries," explained Jenkins. 
Simultaneously, she found two key challenges that could impede the organization's work –  funding and manpower – and crafted policy recommendations to address these barriers. Her impact report was distributed to the organization's funders.
Through her capstone project, Jenkins had the opportunity to pursue her passion for women's issues across the globe. Having graduated in May 2023, there was no better way to celebrate her achievements than to represent G4G and the School of Public Policy to the nation's leaders.
Publications Carousel
Njeri Jenkins meets Representative Maxine Waters (D-CA 43rd District) during the event
Njeri Jenkins looks on from the stage during President Biden's speech at a White House event celebrating women's history month
Njeri Jenkins looks on from the stage during Vice President Harris's speech at a White House event celebrating women's history month
Njeri Jenkins and Vice President Harris listen to Second Gentleman Douglas Emhoff's speech
SIGN UP FOR CISSM UPDATES