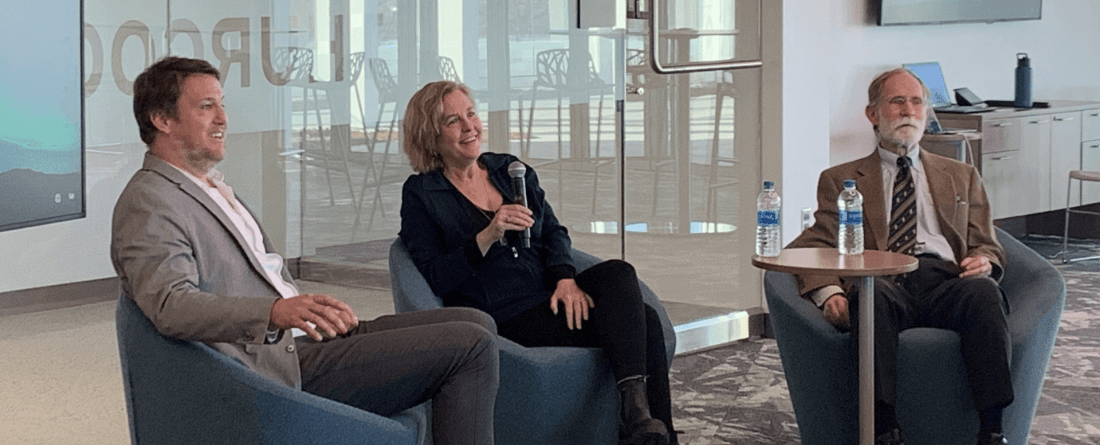 Dr. Peter Agre, a Nobel laureate and the director of the Johns Hopkins Malaria Research Institute, and Linda Staheli, School of Public Policy alum and the founding director of the Global Co Lab Network, recently visited the Center for International and Security Studies at Maryland (CISSM) and SPP to showcase their new documentary entitled A Peace of Science: Diplomacy with North Korea. 
The audience, comprised primarily of undergraduate students, first watched the documentary produced by the Global Co Lab Network, and then participated in an interactive panel discussion moderated by CISSM Communications Director and Researcher, Devin Entrikin. The documentary is one piece of the Global Co Lab Network's efforts to empower the next generation of global changemakers.
The documentary put a spotlight on the work of several scientists and collaborators committed to peaceful co-existence. Staheli co-founded and managed the United States and DPRK Science Engagement Consortium while Agre, who won the Nobel Prize in Chemistry in 2003, served as the scientific team lead. Staheli noted that there had been previous attempts at science diplomacy by the U.S. with China and former Eastern Bloc countries, or by private sector entities with Cuba and Iran, yet never with North Korea. It was, as Dr. Agre told students during the discussion, "the first time many of the North Korean scientists had ever interacted with Americans."
This lack of familiarity made building trust between the team's counterparts paramount to forming a sustainable partnership. To do so, the consortium set their sights on a depoliticized area open to collaboration: ecological restoration. The research prioritized the interests and needs of the North Korean scientists, including work on forestry, fisheries, and volcanic activity.
For seven years, the U.S. scientists brought their DPRK counterparts to the American Association for the Advancement of Science's annual conferences in the United States. At the invitation of the North Korean Academy of Sciences, the consortium sent their first scientific delegation to Pyongyang in December of 2009. The visit opened the door for further cooperative agreements and engagements.
The documentary demonstrated how epistemic communities of scientists can play an important role in developing productive collaborations between civil society groups and citizens of different countries despite fraught government relations.
"The Peace of Science screening made me appreciate the collaborative efforts of scientists across the world. It was very heartening to see collaboration between scientists that represented countries with otherwise adversarial relationships and provided a new angle for me to evaluate relations between countries," said Aviel Taube, a School of Public Policy undergraduate student. "As a student, I find that international relationships are often seen and presented as very one-dimensional, and I felt that this screening really highlighted how impactful a scientific relationship between nations could be."
Publications Carousel
Dr. Peter Agre responds to a question from the audience
An audience member asks the panel a question
Among the consortium scientists, Staheli and Agre described a deep desire to collaborate and learn from each other. Undergraduate student Josefina Pedreros De Giorgis recalled advice from Dr. Agre that she took to heart: "Always look for rare and unique ways to improve relations. When he mentioned that science was hard facts, which no one could dispute, that opened doors for people to talk about their findings, their research, and their common passions."
Rising tensions from increased nuclear and missile testing by North Korea and the corresponding sanctions casts doubt on future opportunities for collaboration. Nonetheless, the power of the consortium's work lies in the evidence that scientific diplomacy can be a promising tool for building bridges between nations.
"There is this tremendous field - science - with a ton of subfields in which people can relate and compare data with," said Pedreros De Giorgis. "But more significantly, it is another tool for my generation to have, and crucial that they know we have, because it puts into perspective the fact that we are evolving as a society, we are divided more and more politically, new challenges have arisen, and yet still, science is a constant. Facts are facts, and one cannot dispute the truth."
Sign up for CISSM Updates