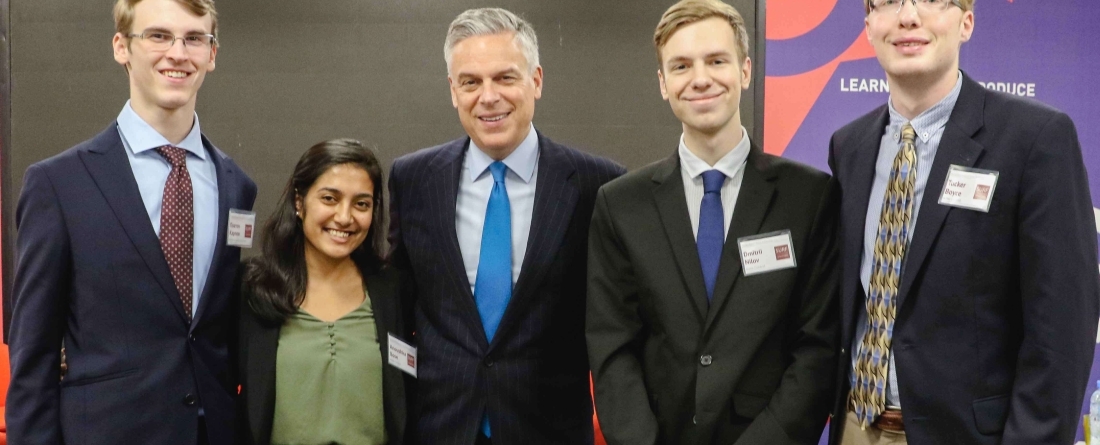 On a trip to Moscow, Russia, in November 2018, School of Public Policy master's student Tucker Boyce (pictured, far right, with U.S. Ambassador to Russia Jon Huntsman) found himself sitting face to face with members of the Russian Ministry of Foreign Affairs. "Meeting those officials gave me a different perspective on the latest arms control developments, including President Trump's decision to withdraw the United States from the INF Treaty," says Boyce. 
Boyce's trip to Moscow as part of an educational program organized by Stanford University was made possible in part by support from the Steinbruner Student Support Fund. He was among three School of Public Policy students who recently received support from the fund.
Master's students Lindsay Rand and Erica Symonds both received support from the fund to attend this year's ISODARCO conference in Italy, which focused on the past and future of arms control. As part of the conference, Rand and Symonds participated in lectures and discussions with scholars and policy practitioners from around the world. Perhaps, most importantly, the two also interacted with graduate students and young professionals from Europe, Asia, and North America.
"Meeting with colleagues from around the world broadened my understanding of nuclear security issues beyond those that are emphasized in America. For example, I was able to hear a variety of viewpoints on the Nuclear Weapons Ban Treaty and get a better understanding for the different ways that its significance has been interpreted worldwide," said Rand.
"Understanding a range of perspectives will help me as I embark on a career in international cooperation in the arms control arena, particularly as the next generation of nuclear scholars moves into leadership roles," said Symonds.