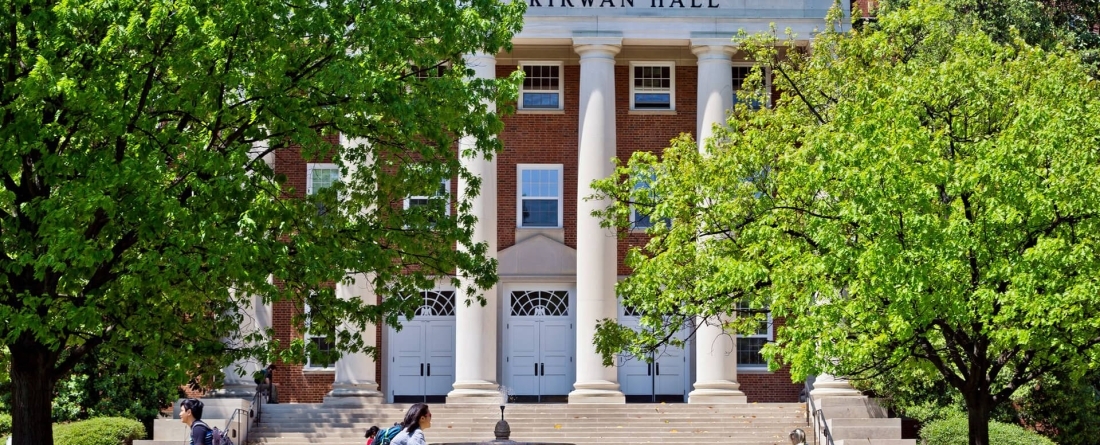 Using data analytics and geospatial technologies, a research project co-led by University of Maryland faculty is seeking to forecast, mitigate or altogether prevent acute malnutrition.
During a trip to Kenya in June, two professors from the University of Maryland made strides in the global battle against food insecurity with support from the German Federal Foreign Office.
School of Public Policy Research Professor David Backer and Department of Geographical Sciences Research Professor Molly Brown—along with University of Minnesota faculty Kathryn Grace and Jude Mikal—convened a four-day workshop to engage with their collaborators from several countries and stakeholders based in Kenya. Their mission was to discuss how statistical models to predict acute malnutrition among young children in countries prone to frequent climate and conflict-related shocks can be used successfully in practice. 
Those models were created under the first phase of the Modelling Early Risk Indicators to Anticipate Malnutrition (MERIAM) project, which launched in 2017 with support from the U.K.'s Department for International Development (since incorporated into the Foreign, Commonwealth and Development Office as of September 2020). 
"If there's a drought or the temperature spikes, will children be affected some months from now? Where are they most vulnerable?" Brown asked, giving examples of the kinds of critical questions their models seek to answer. 
Undertaking this sort of work requires interdisciplinary teams of personnel with diverse skill sets. Brown's specialty is leveraging satellite remote sensing data to examine how climate factors contribute to the complex dynamics of food insecurity, while Backer's expertise is using predictive analytics to assess the likelihood of adverse events like conflicts and humanitarian crises. 
In the second phase of work, Brown, Backer and their collaborators on the MERIAM team—which is led by Action Against Hunger, an international NGO network—are shifting their focus toward making the models more accessible, user-friendly and therefore impactful.
"In Phase 2, our focus is effective communication and practical application of the research," said Backer, an expert in human security and development and research director of the Center for International and Security Studies at Maryland (CISSM). "We approach the situation as an open question, not assuming that merely developing models means they will automatically be implemented by stakeholders, nor will this deployment make a difference in the world." 
By focusing on the requirements to achieve effective uptake of model-based forecasts by end users, Backer and Brown aim to fill gaps that have plagued the modern world for decades. Since the 1980s famine in Ethiopia, international communities invested extensively in conducting surveillance of food security and nutrition, as well as developing early-warning systems. These resources represent important progress in tackling the challenges of humanitarian crises, yet exhibit limitations in anticipating acute malnutrition crises with essential specificity and lead time to enable targeted attention, preparedness and action in advance of onset. 
"The MERIAM project represents an unprecedented opportunity to harness the power of geospatial technologies and data analytics to tackle global food insecurity," said Tatiana Loboda, GEOG professor and chair. "Children's lives are at stake."
This article by Renata Johnson originally appeared on the Department of Geographical Sciences' website.